2021 HR-V Customer Cash Disclaimer: $1,000 "HR-V Customer Cash" must be applied to the lease or purchase of a new and not previously reported sold 2021 HR-V. "HR-V Customer Cash" can be applied to the sale of the vehicle or the customer may request a $1,000 Visa Debit Card. "HR-V Customer Cash" cannot be combined with HFS Special APR or HFS Special Lease. 2021 Passport Customer Cash Disclaimer: $1,250 "Passport Customer Cash" must be applied to the lease or purchase of a new and not previously reported sold 2021 Passport. "Passport Customer Cash" can be applied to the sale of the vehicle or the customer may request a $1,250 Visa Debit Card. "Passport Customer Cash" cannot be combined with HFS Special APR or HFS Special Lease.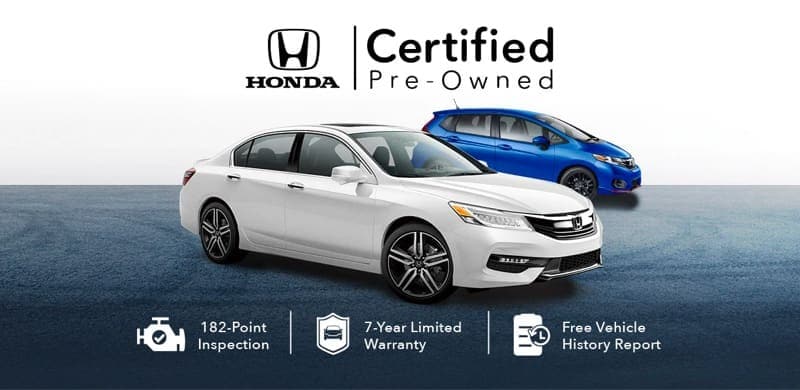 Certified Pre-Owned
Nothing compares to the quality of a Honda. No other program comes close.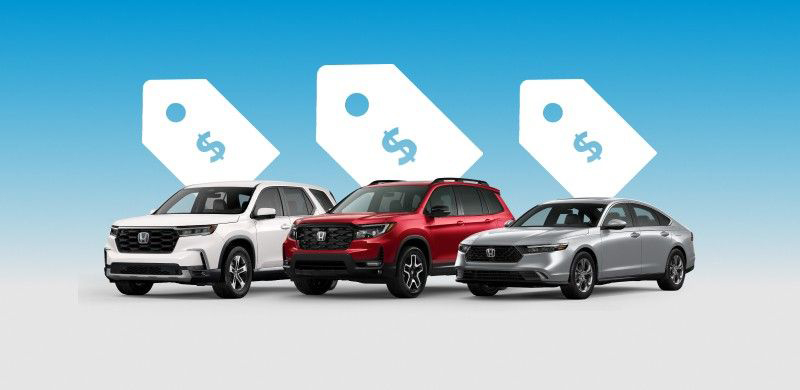 Current Offers
See this month's featured current offers going on now on new Honda vehicles.
Our Reviews
Great service by all. Rachel a very thorough, as always. When I arrived, I was worried for about thirty seconds about the "line" until it was cleared out almost immediately. When I arrived at 8am, customers who arrived between 7-7:30am were already leaving. Nice job!
I'm always pleased with the courteousness of the staff at Sheehy. During this time of COVID I'm also pleased with the cleanliness of the waiting room and bathroom.
Rachel Higgins is top notch. I am on my 3rd Accord from Sheehy Honda and have always had the best experience with Rachel. Just the best of the best!
Rachel, equals the best customer service you can get. She knows what she has to do to assist a customer, and she does it well
Everyone I have dealt with at Sheehy Honda was/is incredibly professional and so knowledgeable and up-front regarding their specific job duties and responsibilities. Rachel Higgins has always been extremely professional, very helpful, amazingly up-to-date with information and facts, and very, very prompt in returning my phone messages or emails. Even when the service center has been very busy, Rachel is the essence of a "cool, calm and collected" Sheehy Honda customer service representative. Thank you, Rachel!
I am always pleased with the customer service I receive when I take my CR-V in for maintenance. Rachel is always efficient and courteous and able to answer any questions I have.
Solid shop, I'll keep going here for service needs. Oil change and tire rotation took about an hour. Waiting area was great and got a lot of work done at one of the desks.
I bought my car at Sheehy Honda four years ago and have bought it back for all service, etc. They've been a pleasure to deal with all along. Even the shuttle drivers are great. Most recently Rachel Higgins made things easy for me when trying to make sure my maintenance is up to date. Much appreciated.
I am always pleased with the customer service I receive when I take my Passport in for maintenance. Rachel is always efficient, courteous, and able to answer any questions I have.
Professional and friendly environment. Customer service is the best with Rachel Higgins. They were busy. I felt it took a little longer to find out what was wrong with the AC. However, I was provided transportation to my home and return--this is a plus.
Pleasant and efficient staff. Work completed in timely manner as requested Phone controls keep up.
Clean professional efficient No additional words to add at this time thank you very much
Friendly and attentive staff. Very fast service too! Much shorter wait time than I was expecting. I will definitely be returning for my future car service needs.
Sheehy Honda has friendly environment and good customer service. I am a VIP member since 2007, purchased accord, CRV and odyssey with VIP membership.
I love this dealership. The salespeople and all those who work in the service department are a joy to work with. They not only care about your car, they care about YOU! You don't get that everywhere.
Rachel and Vijay are truly amazing professionals of Sheehy. That is not saying anything bad about anyone else in Service Department but they have helped my wife and out for many years. Always professional, always caring, and always make sure you know what is going on with your vehicles. I hope others have the blessed and caring service I received. Thank you Rachel and Vijay......see you soon!!!!!!
The shop offers solid customer service and the waiting area is always clean.The Agents always have a thoughtful response to any questions that a customer may have.
I get all my cars and service from this dealership. Everyone is very nice friendly and professional. Always get good price in cars. Good service.
Everyone takes care of me while I am visiting every time. Upon arrival, Rachel and Vijay know what needs to be done; I love it!
I've always had a terrific experience at Sheehy Alexandria. Excellent care, service. Staff is wonderful (Rachel and Mohammed). The staff are thorough & courteous always!
Very pleasant interactions with super polite staff! Thank you for caring for my car and for great customer connections! Fast and quick service, I will be taking my car here again!
My appointment was on time and I didn't have a long wait. Rachel was patience, friendly, polite and acted very professional explaining the problems about my vehicle. I can say she had excellent patience dealing with me. I will highly recommend Rachel to family and friends to have their vehicles service at Sheehy.
Ready to receive my car @ the scheduled time. A young lady got all the pertinent information & told me what it would cost me to get the maintenance done. She was very professional. I was in & out in approx. 2 hrs.
My experience with Sheehy Honda is long and deep. I've purchased over 15 vehicles from Sheehy and would never think of going anywhere else for service. Rachel and her team at Sheehy are always professional and they care about my cars and do whatever they can to achieve perfection in their duties.
Rachel has been taking care of our family for many years now - as our whole family now own cars from Sheehy Honda. When it comes time for service or repairs - I feel confident in reaching out to her to ask questions and get information - and she has always provided information/helped us make decisions. It's a relief to know we can count on her and the service department to be responsive and helpful.

Welcome to Sheehy Honda
At Sheehy Honda Alexandria, we make it easy. Whether you are looking for a new car like a Honda, something from our pre-owned inventory including our Sheehy Select and our Sheehy Value Vehicles, or even if you need service, you can count on the Sheehy Honda Alexandria team to provide an easy and hassle-free experience. When it comes to our new Honda vehicles, we have all the models that you may be interested in. If you are looking for a Civic, Accord, CR-V, or something else, then you have come to the right place. Don't forget, when you buy from our used inventory, you can count on our Sheehy Easy Price. With no haggling and no hassling, the Sheehy Easy Price makes it as simple as can be.
The Sheehy name represents one of the largest auto groups in the country. Even so, each of our dealerships, Sheehy Honda Alexandria included, remains very committed and very involved in their local communities. We are a family-owned business after all, and community, wherever we are, is very important to us. As such, Sheehy Honda Alexandria participates in numerous community events and programs. Whether we are providing food for the Sheehy Fall Food Drive or donating toys to Toys for Tots, you can expect a strong commitment from our team. We are here to serve Alexandria, Springfield, and Washington, D.C. and we hope we have the chance to serve you soon!
When you count on Sheehy Honda Alexandria for service, you never have to go anywhere else. We can take care of all your major auto service including everything from oil changes, alignments, and filter replacements, up to and including major engine, transmission, and electrical system work. Our team of expert technicians knows how to handle your Honda or any other make or model that you may own. We can get your service done quickly and accurately right here in Alexandria where we also serve Springfield and Washington D.C. Schedule your service appointment with Sheehy Honda Alexandria online and remember that at Sheehy it's Easy!
Get Directions To Sheehy Honda