2021 HR-V Customer Cash Disclaimer: $1,000 "HR-V Customer Cash" must be applied to the lease or purchase of a new and not previously reported sold 2021 HR-V. "HR-V Customer Cash" can be applied to the sale of the vehicle or the customer may request a $1,000 Visa Debit Card. "HR-V Customer Cash" cannot be combined with HFS Special APR or HFS Special Lease. 2021 Passport Customer Cash Disclaimer: $1,250 "Passport Customer Cash" must be applied to the lease or purchase of a new and not previously reported sold 2021 Passport. "Passport Customer Cash" can be applied to the sale of the vehicle or the customer may request a $1,250 Visa Debit Card. "Passport Customer Cash" cannot be combined with HFS Special APR or HFS Special Lease.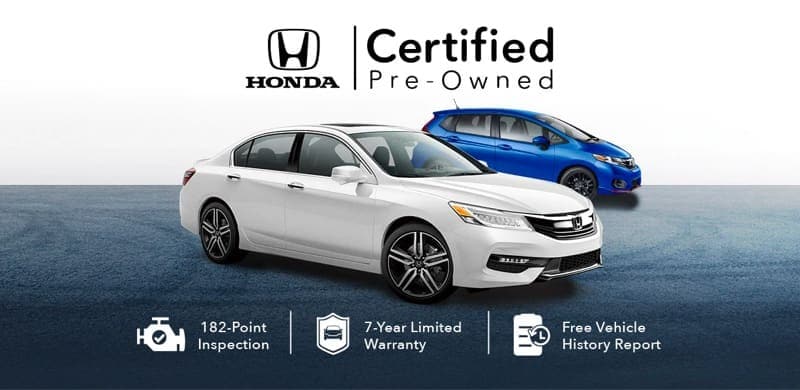 Certified Pre-Owned
Nothing compares to the quality of a Honda. No other program comes close.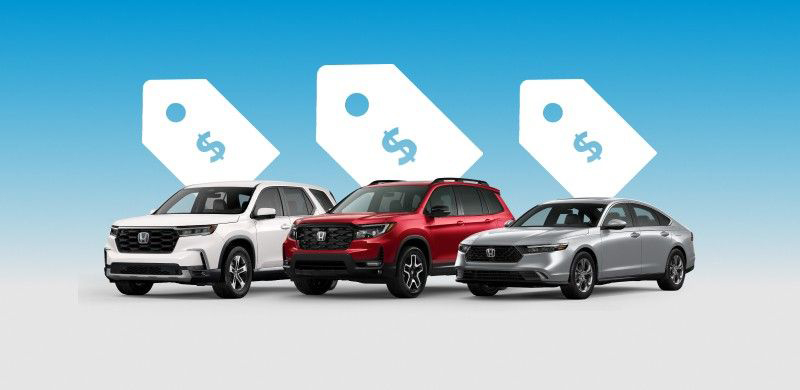 Current Offers
See this month's featured current offers going on now on new Honda vehicles.
Our Reviews
Rachel is always very helpful to explain the service we need to have each visit.
I ALWAYSSSS receive Exceptional Service ……there is no other place I would rather be they make sure their customers are satisfied
Rachel was great. She was able to get me an appointment at the last minute, and finish the services earlier than the estimate. I really like how Sheehy Honda is not pushing trying to always add additional services.
Sheehy Honda was so helpful during my car emergency. They quickly agreed they could do the work and established text communications with me to set up everything from towing through repair status. After repairs they kindly let me keep the car on the lot while I traveled for work for a week. Definitely recommend these professionals!
Great customer service, clean, nice, quick, explain everything, over the top, keep you abreast with your vehicle
It was great service, friendly staff, suggestions were what was needed. Fast turn around time.
Rachel handled everything superbly! Car was worked on and returned to me promptly and I was notified by email, telephone call and text. Well done
great team .All aspects of the service went very well. No problems..Rachel is very responsive.
Rachel and her team are always prepared fora any Susie's I have on the three vehicles we have serviced at Sheehy land the over 20 vehicles I've purchased from Sheehy over the years.
Great customer service. Took my car in for service. The work was completed in the expected time.
The team at Sheehy Honda is great. I was able to come in, drop off my car, and have it serviced very quickly without a hassle.
The team at Sheehy Honda was great. Rachel in particular helped me through the whole process, going above and beyond to also help me with my insurance company too. Thanks!
Excellent service and no delays. I was recommended this dealership from Faulkner Honda in Harrisburg, Pa. before I moved here. I plan to stay with SHEEHY.
Sometimes it take going to another service location to really appreciate your regular one. I recently was emergency towed to a Pittsburgh dealership (Baierl Honda) as my engine had overheated and damaged my engine ( on a Friday night on the PA turnpike)! Baierl service department never even called me to talk about the car. I had to call them and the answer I received was that their service department was booked with appointments for 2 weeks!!! I have never experienced such rudeness for an emergency! This makes me appreciate Rachael and Sheehy Honda service 100 times more. They know how to prioritize work and Rachael always explains everything to me and takes care of my car. When I move back to Pittsburgh, I may have to bring the car back to Sheehy, just for maintenance and service!!!
A good experience and work was completed in the time allotted. Everything went very smoothly.
Great service. Rachel was courteous and professional. Will return for service or a new vehicle.
Rachel has been a blessing to me. Giving good advice with how to take care of my Honda. And always willing to provide the best that Honda had to offer.
High Quality Customer Services Every Visit! Great Expertise and Affordable Deals. Treats Customers With Dignity and Respect.
Great service by all. Rachel a very thorough, as always. When I arrived, I was worried for about thirty seconds about the "line" until it was cleared out almost immediately. When I arrived at 8am, customers who arrived between 7-7:30am were already leaving. Nice job!
I'm always pleased with the courteousness of the staff at Sheehy. During this time of COVID I'm also pleased with the cleanliness of the waiting room and bathroom.
Rachel Higgins is top notch. I am on my 3rd Accord from Sheehy Honda and have always had the best experience with Rachel. Just the best of the best!
Rachel, equals the best customer service you can get. She knows what she has to do to assist a customer, and she does it well
Everyone I have dealt with at Sheehy Honda was/is incredibly professional and so knowledgeable and up-front regarding their specific job duties and responsibilities. Rachel Higgins has always been extremely professional, very helpful, amazingly up-to-date with information and facts, and very, very prompt in returning my phone messages or emails. Even when the service center has been very busy, Rachel is the essence of a "cool, calm and collected" Sheehy Honda customer service representative. Thank you, Rachel!
I am always pleased with the customer service I receive when I take my CR-V in for maintenance. Rachel is always efficient and courteous and able to answer any questions I have.
Solid shop, I'll keep going here for service needs. Oil change and tire rotation took about an hour. Waiting area was great and got a lot of work done at one of the desks.

Welcome to Sheehy Honda
At Sheehy Honda Alexandria, we make it easy. Whether you are looking for a new car like a Honda, something from our pre-owned inventory including our Sheehy Select and our Sheehy Value Vehicles, or even if you need service, you can count on the Sheehy Honda Alexandria team to provide an easy and hassle-free experience. When it comes to our new Honda vehicles, we have all the models that you may be interested in. If you are looking for a Civic, Accord, CR-V, or something else, then you have come to the right place. Don't forget, when you buy from our used inventory, you can count on our Sheehy Easy Price. With no haggling and no hassling, the Sheehy Easy Price makes it as simple as can be.
The Sheehy name represents one of the largest auto groups in the country. Even so, each of our dealerships, Sheehy Honda Alexandria included, remains very committed and very involved in their local communities. We are a family-owned business after all, and community, wherever we are, is very important to us. As such, Sheehy Honda Alexandria participates in numerous community events and programs. Whether we are providing food for the Sheehy Fall Food Drive or donating toys to Toys for Tots, you can expect a strong commitment from our team. We are here to serve Alexandria, Springfield, and Washington, D.C. and we hope we have the chance to serve you soon!
When you count on Sheehy Honda Alexandria for service, you never have to go anywhere else. We can take care of all your major auto service including everything from oil changes, alignments, and filter replacements, up to and including major engine, transmission, and electrical system work. Our team of expert technicians knows how to handle your Honda or any other make or model that you may own. We can get your service done quickly and accurately right here in Alexandria where we also serve Springfield and Washington D.C. Schedule your service appointment with Sheehy Honda Alexandria online and remember that at Sheehy it's Easy!
Get Directions To Sheehy Honda