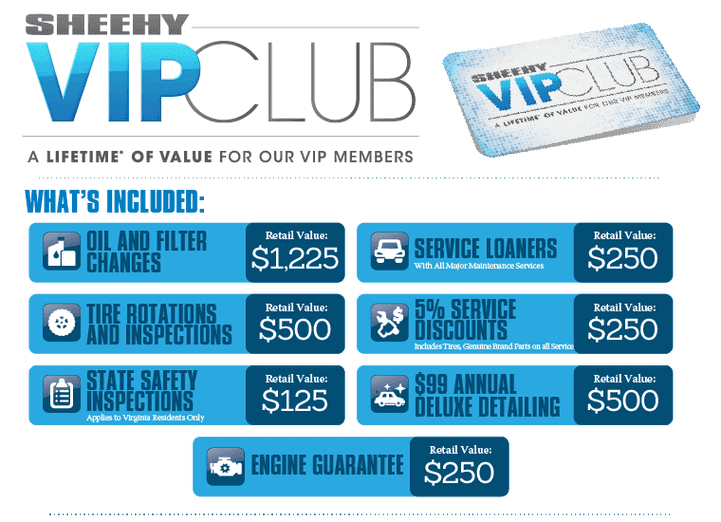 As a Sheehy VIP Club member, you will continuously benefit from all the services that are included in the Sheehy VIP package. With Sheehy VIP you'll pay one upfront price for the VIP program and the next time you need an oil change or tire rotation, you won't pay for these services at the dealership.

Not only does your Sheehy VIP package include, oil and filter changes, tire rotations and inspections, state safety inspections, service loaners, service discounts, $99 annual deluxe detailing and an engine guarantee, but it also includes Sheehy VIP Bucks. Sheehy VIP bucks can be used towards the purchase of your next Sheehy vehicle and you INSTANTLY get $300 when you sign up for the Sheehy VIP Program!

You can also earn VIP bucks by simply getting your vehicle serviced at any of our Sheehy locations. For every $10 you spend servicing your vehicle with us, you earn $1 VIP Buck. You won't find a deal this great anywhere else. So, don't waste another second, click on the Request to Join VIP Now button then fill out the contact form to request to join our Sheehy VIP Club!